Wald Basket/Rack Combo Multi Fit Black Wald #3339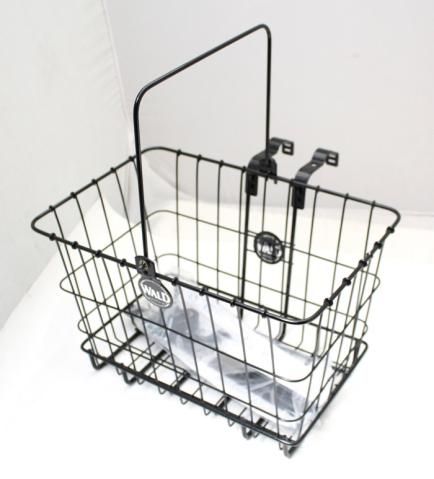 Wald Basket/Rack Combo Multi Fit Black Wald #3339
---
• Please look over our updated shipping terms
• "Add to Cart" button will not allow out-of-stock items to be ordered.
Wald Basket/Rack 3339 Mulit Fit Black
-This versatile rack/basket combination offers the durability of a permanently mounted rack and the convenience of a removable quick-release basket. 
The basket nests in a 12.25 by 7.25 inch rack, and with a flip of the handle, the basket is easily removed to take shopping or to carry goods inside. 
Without the basket, strap your backpack, favorite beverage or other goods in place for easy transport.
• Made in U.S.A. (Maysville, KY)
• Rack dimensions 12 1/2" x 7 1/4" with 1 1/4" rail on all sides
• Two-piece adjustable legs extend from 14" to 22" and mount to either front axle or fork eyelets on bikes with quick release front hubs
• Extended handlebar clamps allow greater clearance for shift and brake cables
• Handlebar clamps are enlarged to fit 1 1/4", 1" or 7/8" OD handlebars
• Rack is furnished with metric fasteners
• Combo comes with a Wald 3133 quick release basket 14 1/2" x 9 1/2" x 9" deep, tapering to 12 ¼" x 7"
• Basket nests in the rack and locks into place 
• Lift the handle to release the basket and take it with you
• Complete rack and basket combo weighs 4.8 lbs. each