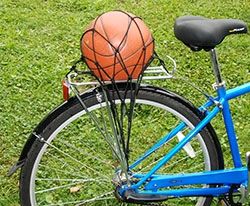 Wald Bicycle Cargo Net
---
• Please look over our updated shipping terms
• "Add to Cart" button will not allow out-of-stock items to be ordered.
Wald Bicycle Cargo Net
Item: #25115
Designed for use with rear racks and Wald baskets, the net is approximately 12" x 12" not stretched.
With hooks in each corner, the net will hook up to your basket or rack to hold things in place.
Great for strapping books or backpacks to a rear rack, or for keeping a load in place in your front basket.