Suzue 15mm to 12mm Thru-Axle Converter, Length 140mm, Trek Domane / FX Sport 5/6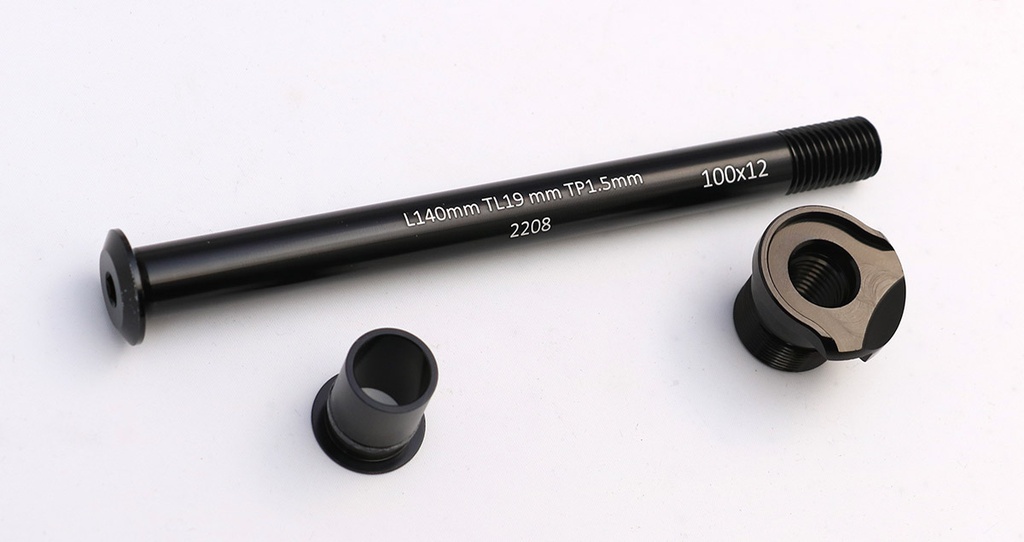 Suzue 15mm to 12mm Thru-Axle Converter, Length 140mm, Trek Domane / FX Sport 5/6
---
• Please look over our updated shipping terms
• "Add to Cart" button will not allow out-of-stock items to be ordered.
 Fork Thru Axle Conversion Kit for Trek Domane and FX Sport 5/6. Converts fork from 15mm to 12mm Thru Axle allowing use of a wide range of hubs and wheels previously incompatible. Kit includes one each:
• Thread insert:Trek Domane Disc thread insert, M12x1.5mm internal thread, M20x1mm external thread (replaces original)

• Thru Hole Insert: 15mm OD x 12mm ID, 19mm long (fits inside original unthreaded insert)

• Axle: 12mm x 140mm long, M12x1.5mm threads, 5mm hex recess
Installation instructions:
Use 1" (25.4mm) spanner wrench to unscrew nut on disc side of fork then push original threaded insert out of hole, or tap it out using a plastic mallet. Place new threaded insert into fork in proper alignment and push it in as far in as possible. Install nut and tighten to specified torque while ensuring that the new thread insert is seated fully in the fork leg. Depending on your fork, the new insert might be a slight interference fit.