Yokozuna Reaction Universal Kit Black Campy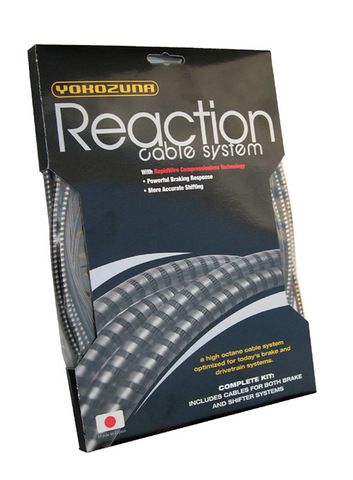 Yokozuna Reaction Universal Kit Black Campy
---
• Please look over our updated shipping terms
• "Add to Cart" button will not allow out-of-stock items to be ordered.
– The first truly compressionless brake housing; boosts braking power from road brakes to mechanical discs
– Both shifter and brake housing are jet-Lubed END2END for smoother cable action. Housing color is Black.

– Tightly wound, low stretch stainless steel cables
– Shift cables have heads for Campagnolo and Shimano/SRAM
– Brake cables have heads for Campy  and MTB (For Shimano brakes you would need to supply your own cables or just buy the other Universal Reaction kit)
Lengths have been increased to work with disc brake bikes and larger bikes.
Contents:
RapidWire Brake Housing:
- 5mm x 3500mm - 1

Stainless Steel Brake Wire
- 1.6mm x 1350mm - 1
- 1.6mm x 2750mm - 1

Step Down Alloy End Caps (brake) - 4

Shifter Housing
- 4mm x 3000

Stainless Shift Wire
- 1.2mm x 2100mm - 2

4mm Plastic End Caps (shifter) - 6

Cable End Tips - 4
(Note: Housing is very stiff and strong; for best results cut with a sharp cable cutter or a Dremel tool. We do not warranty housing ruined with dull cutters. )