Soma Cargo Bike Pick Up Artist Complete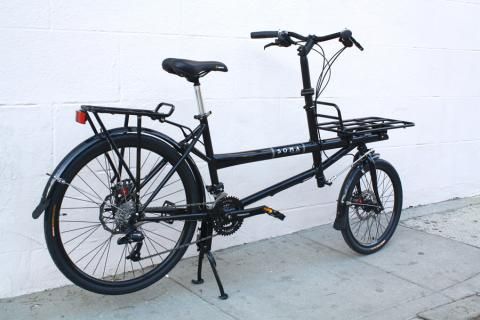 Soma Cargo Bike Pick Up Artist Complete
---
• Please look over our updated shipping terms
• "Add to Cart" button will not allow out-of-stock items to be ordered.
Soma Pick Up Artist Complete Cargo Bike
WIRED Magazine called it "the best name ever for a cargo bike", but there is more going on to this bike than its name.
– The longer wheelbase and linkage steering makes for a milder steering beast(better when carrying heavy loads). It's longer front platform also facilitates carrying bulkier loads.
– The platform rack is affixed to the frame, not the fork, so the front load does not affect steering as much
– Super low standover height
– 20″ front wheel, 26″ rear wheel
– Comes with basic functional SRAM/Avid kit
– Ahearne-MAP bar classes things up
– Rear rack, fenders, and double kickstand included– 1350mm wheelbase