Soma Headbadge Rising Sun (Tall)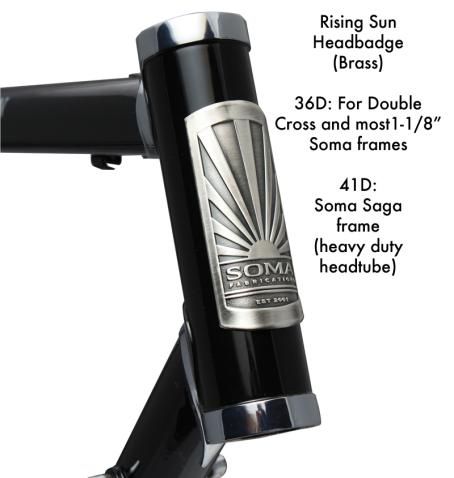 Soma Headbadge Rising Sun (Tall)
---
• Please look over our updated shipping terms
• "Add to Cart" button will not allow out-of-stock items to be ordered.
Brass headbadge for Soma  frames  
• The 1-1/8" fits headtubes 36mm in diameter. This is for almost all Soma frames that use 1-1/8" external cup headsets. Pre-2021 Smoothies, Double Cross, 2019-20 Sagas
• The "1-1/8 (Soma Saga)" fits pre-2018 Soma Sagas, which had a heavily reinforced headtube..
• The 1" version fits frame like our Grand Randonneur and Rush frame, which use 1" headsets

Adhesive back.
Note: Headbadges at the factory are applied with a machine. Applying by hand may not yield the same results.
We carry very few of these, so please only order as needed.